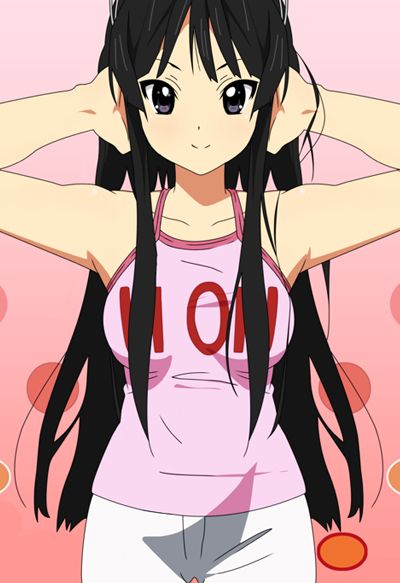 "MOE MOE KYUN~". now does that ticks yer nerve bone yet aye ?


k-on ! is the current fad within the otaku community and like its spiritual predecessor lucky star [ also by the same studio kyoani ] its instant popularity and rise to fame had generated much rage from the so-called 'justice league of quality anime' [ aka the self appointed true anime purists ], resulting in bags of trolls and shatstorm set ablaze in few places around the net. the self appointed force of justice kept on moaning over the 'lack of quality' and integrity of the show [ which i highly disagree since i find the show to be good enough from every available perspective, thus i keep pondering on the very meaning of quality by the league's standard ] while the army of darkness [ aka fans of the series ] stubbornly stood in defense of the show. for the time being the battle is just beginning and it wasn't yet severe as the one witnessed during the reign of lucky star still from the look of things this battle may as well be spreading wide like wildfire in yer backyard after 2 or 3 more episodes to come.
well this sorta trend has been going on within the community for decades, not just among them otaku but within other fields of interest as well. when a certain subject came to be widely recognized and accepted there will be numbers of those who will stand up against it much to their extreme discontent [ e.g. "no i don't watch / listen to this crap" ] which will often lead out to an all out mudfight between the two sides, and the resulting aftermath were often so darn ugly.
honestly said i highly believe that each and everyone of us has came to experience for at least once in our lifetime being on each side of the wall; there will be time[s] when we'll be waving our fist for the justice of the thing[s] we cared about while there will also be moments in which we came to stomp over others' just to please our own discontent over theirs. even i personally admit that i had been in the hater's shoes for so many times when i was young and immature yet the hatred often came to poke right back at me each time i've done so, and from that very experience i now came to learn on accepting everything as they were [ unless they are proven to stink and rot by the captain obvious ].
this very action itself were the product of our own reverse psychology, a state of mind in which we were either knowingly / unknowingly in love of something but instead tried our best to shut it out of our minds for a length of any given reason we had for ourselves. the so-called dispute over k-on ! itself might've been caused by the manifestation of reverse psychology within these despiser, as they might be vocally critical over the mainstream success of the series yet still able to maintain close contact with its serial run by every week, never fail to consume each and every new episode released on the net throughout its entire run :3
my bottomline is [ i bet the post above is tl;dr and pretty pointless that you skipped reading through the entire of it ] that if you are to stand against anything just be sure that your action are based on pure logic and not just for the sake of blending in the 'cool crowd' [ hasty critics / hate machines are often depicted as the cool thing on the net ] or out of any hypocritical means, for example you liek k-on ! much yet since everybody's sooo into it you began to lose yer mind and went hysteric :3
[

p/s : regardless of the hype and the post made above i'm just casually into the series, or else you'll be reading hundreds of pointless k-on ! related post within this very blog of mine

]